After the glory
In 2012 I photographed the shipwreck Duffy. I was deeply impressed by this wreck in the Westerschelde near Hansweert. The conditions weren't optimal. It was almost a clear blue sky. And my photographic skills were also not very good on that time…
Then I thought, I have to photograph this wreck once again. Years passed. Other landscape subjects were given more priority … And when I thought about this subject, the weather wasn't very great. Or the tide was not good …
More than 6 years later it was finally time. I drove to Hansweert in the car. Beautiful skies were shown to me on the way. If you're a little unlucky, you'll came to the location and all the beautifull skies will be gone … And well, I arrived and I 've got a rain shower right over me. After five minutes it became dry. Quickly the boots on. And then walking over the sludge, heavy and tiring work. I really had to keep an eye on my sugar (I am a diabetic).
When I arrived at the wreck, I first got a little hailstorm over me … But then I was treated up on a beautiful sky … Well it stormed and that usually produces nice skies. Although it does not yield a threatening sea (because it was ebb).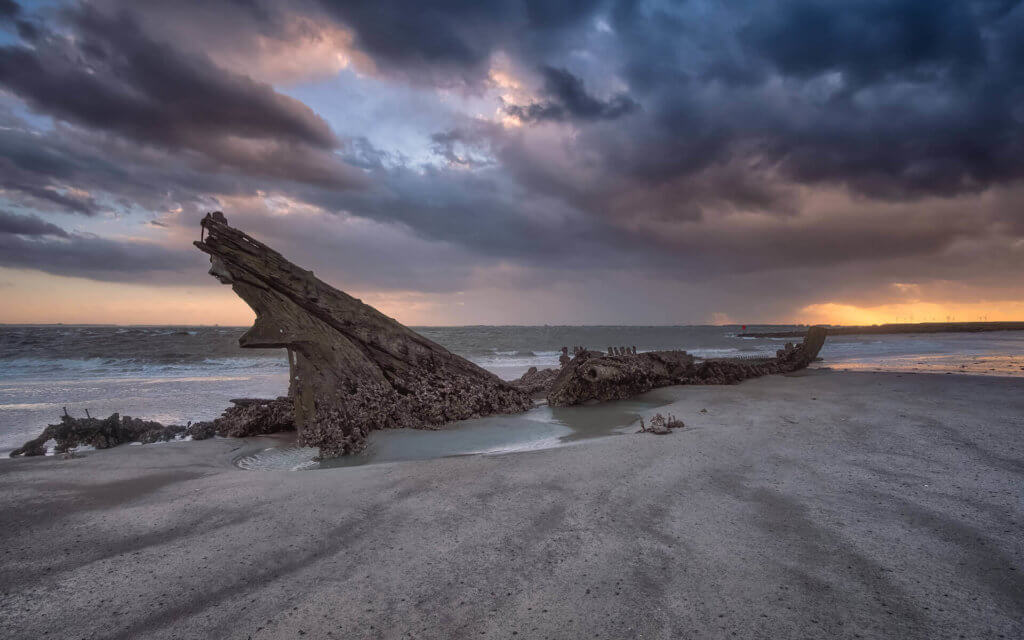 Duffy is an old tugboat. Sinked at the begin of an old harbour. They where hoping to control the tide of the Westerschelde. Unfortunately this doesn't work.
Back in the days Duffy worked for the US Army in the Second World War. And now? Now it is faded glory. After the glory… Just a nice subject for photographers, like me…
So… The storm and autumn season has arrived. I'm excited. Bring it on ?